Dilly beans are one of the most popular fermentations among our CSA members and enjoyed by both young and old. It's one of the easiest fermentations to make but takes time in other ways like the harvest and maturing time – I usually let this fermentation sit in the root cellar for at least three months before jarring – and then there's the jarring process itself. Fitting long beans into short jars is a time-consuming task. This means that the majority of the work is done in winter when growers typically have more time.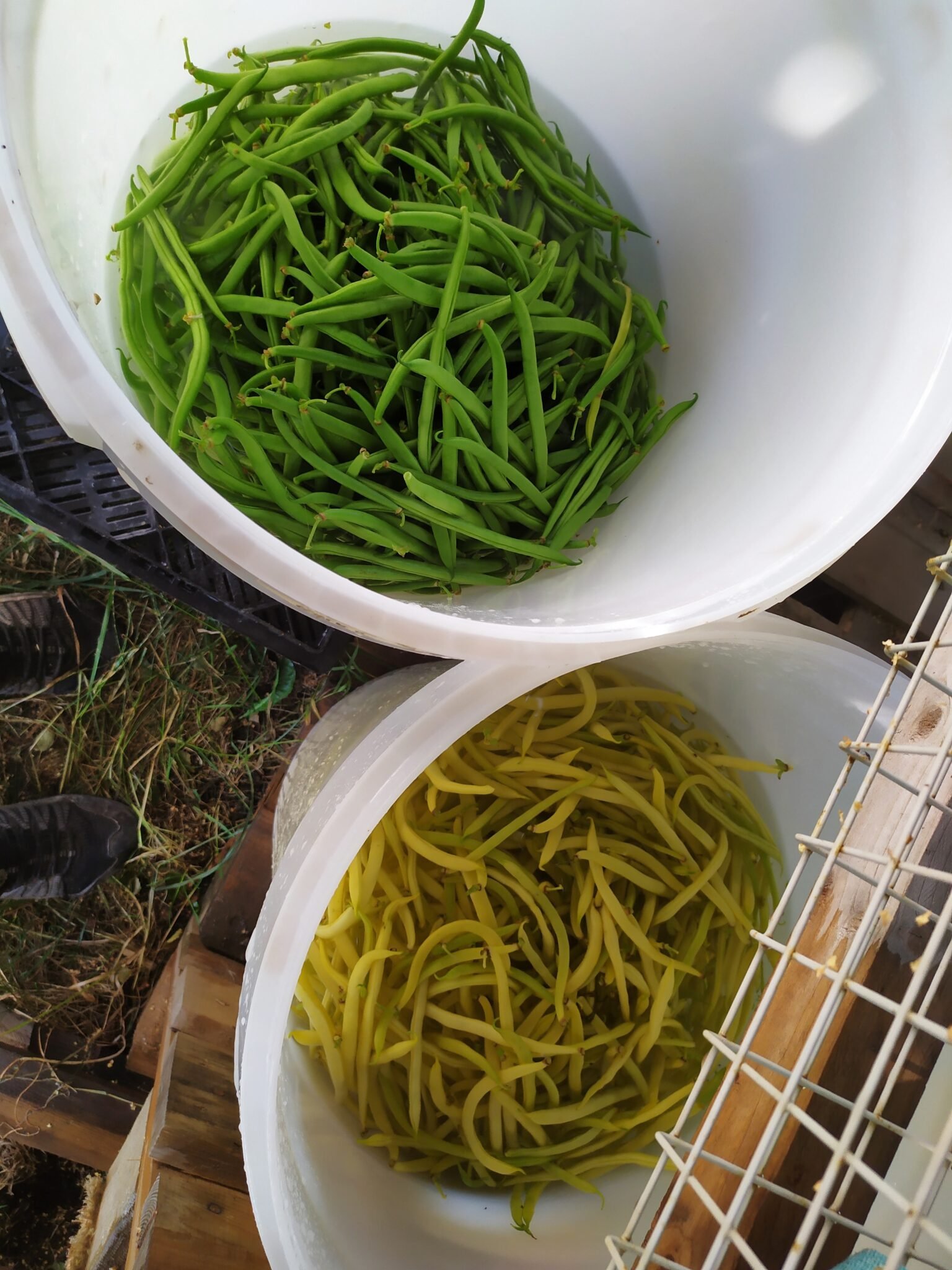 Adjust according to taste and availability:
13 liters of green/wax beans (purple beans work too, although they lose their color)
3 large onions
1 head of garlic
a small bunch of dill flowers
10 black peppercorns
Harvest the beans before the actual bean develops; the pod should not be woody. Rinse them off but leave them whole, even with a little stem is fine. Layer the beans with chopped onions, whole garlic cloves, dill, and a few black peppercorns. Place a plate on top and then fill the container with a cold brine solution of 3.5% salt (35g salt per liter of water). Using less salt increases the risk of the beans becoming soft. Let it sit at room temperature for 7 days, then transfer to a cool place for at least 6 weeks, preferably three months. If fermenting beans in jars, chop the beans.
The beans will compress somewhat during the first day, so I usually fill the container quite a bit and place a weight, such as a bowl filled with water, on top to maximize the number of beans that fit. On the second day, I remove the weight but leave the plate on top and put on the lid and airlock.
Enjoy as snacks or chop and mix into salads or stews.
Here is a video of the actual process filmed by Campfire Stories – check it out for more amazing videos and podcasts!